BOOKS:
Frank Lockhart: American Speed King, by Sarah Morgan-Wu and James O'Keefe
The Marvelous Mechanical Designs of Harry A. Miller, by G.E. White
Miller: Cars & Biography, by Griffith Borgeson
The Golden Age of the American Racing Car, by Griffith Borgeson
The Miller Dynasty, 2nd ed., by Mark L. Dees
50 Years of Road & Track: The Art of the Automobile, by Wm. A Motta
Art and the Automobile, by D.B. Tubbs
Throttle: The Complete Collection, Jan-Dec 1941, by Thom Taylor & The Rodder's Journal
The Gallery of Legends Book: Daytona International Speedway (Ten Decades - From the Beach to the High Banks), by Jonathan V. Mauk and Glenn M. Barber
The Land Speed Record 1920-1929, by R.M. Clarke
High Performance - Revised Edition, by Robert C. Post
Phil Hill: Yankee Champion, by William F. Nolan
Automobile Quarterly, by Automotive Quarterly, Inc.:
Volume 3, No. 3
Volume 8, No. 3
Volume 33, No. 4
Volume 44, No. 4
Images of America: Ormond Beach, by The Ormond Beach Historical Trust, Inc.
Greetings from Ormond Beach, Florida, by Donald D. Spencer
Beach Racers: Daytona before NASCAR, by Dick Punnett
Speed on Sand, by WIlliam P. Tuthill
Vintage and Historic Indianapolis Race Cars, by Dan Owen
Barney Oldfield: The Life and Times of America's Legendary Speed King, by William F. Nolan
Wheels of Change: From Zero to 600 M.P.H., by Kevin Nelson
Model T Speed Secrets: the Fast Ford Handbook, by Murray Fahnestock
Model T Ford: In Speed and Sport, by Lincoln Publishing (compiled from collection of Harry Pulfer)
California Bill's Ford Speed Manual, 1952 Edition, by Fred W. "Bill" Fisher

MAGAZINES:

MotorSport - April 1936, Vol. XII No. 6; January 2004, Vol. LXXX No. 1: 20 Greatest Sportscar Drivers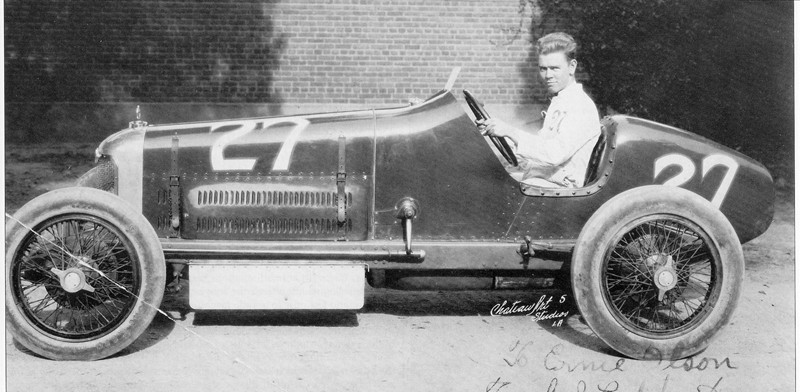 Speed Age - Nov 1949, Mar 1952
Sports Illustrated Presents 100 Indy 500: Indianapolis 500 Centennial Issue (April 14, 2011) by Sports Illustrated

DRAWINGS:
Ernie Holden illustration of the Black Hawk Special
Early "blueprint" sketch (xerographic copy - black with white lines) of the same
OTHER:
Indianapolis Speedway Official Race Program - May 31st, 1926 (reprint) by Indianapolis Motor Speedway Company